A vocation is a call from God to a particular state of life, which will lead the person toward a life of holiness. In the general scheme of things there are two vocations in the Roman Catholic Church: the single life and the married life.
The married life is a great call from God to the man and the woman to mutually consent, for their entire lives, to love each other in the only natural and divinely-ordained conjugal union. Their marital union in the Church is filled with the sacramental grace they receive in Holy Matrimony and by living out a sacramental life. This vocation is always open to the bearing and raising of children who are reared in a life of Christ. The man and woman further assist each other in the pursuit of a greater faith walking together toward their destiny in heaven.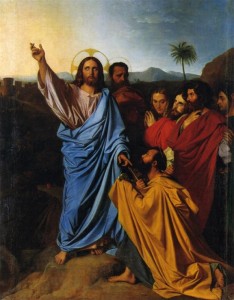 The "celibate" or literally the "single life" is for those who do not marry. These, after profound discernment, have decided with God's counsel to remain in the unmarried state and to seek holiness in his service and in the service of the Church and their neighbor.
Some who embrace the single life also embrace God's particular call to the priesthood or religious life.
Here at St. Francis Xavier we dedicate every Tuesday Adoration to pray for vocations (i.e. vocare – Latin for "to call") particularly to the diocesan priesthood.
Searching out one's vocation is the sincere duty of every Catholic.  We are called to look for signs for us and others and to offer gentle encouragement to young men or women who may be receiving the call to a religious vocation. It should become common practice for each and every young person to ask God in what way he or she is being called to holiness, and every adult person's duty to assist respectfully in this discernment with prayer and support.
Presently, our parish has one parishioner in the seminary preparing for Priesthood. In order to support this seminarian, and other vocations that may develop from the parish, we have created a Seminarian Fund to provide material support to those who have given up the world to become "Fishers of Men."
St. Francis Xavier Parish also actively participates in the diocesan vocation events such as Quo Vadis Days in July.
Please pray for Vocations!