Congratulations on your recent engagement!  We are honored to help you prepare for this important step in your relationship and spiritual lives.
Detailed guidelines for marriage preparation and wedding ceremonies can be found here in our "Wedding Policy and Guidelines."
If you would like to discuss marrying in our parish, please complete the Wedding Inquiry form below.  Please note that completing the form DOES NOT reserve your desired wedding date.  Wedding dates are reserved only at the first meeting between a couple and Fr. Ryan.
CEREMONY OPTIONS
Below are the options for different parts of your wedding ceremony. Please use these documents to make your selections on the linked Google form below.
Fill Out Wedding Ceremony Selection Form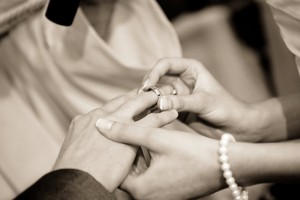 "But from the beginning of creation, `God made them male and female.'  `For this reason a man shall leave his father and mother and be joined to his wife, and the two shall become one flesh.' So they are no longer two but one flesh.  What therefore God has joined together, let not man put asunder." (Mk 10: 6-9)