Marriage is a natural institution and the lasting union between one man and one woman who consent to give their entire lives to each other in commitment and in love.
Christ, while present on earth, raised natural marriage to a sacrament which the Church calls the Sacrament of Matrimony.  In Holy Matrimony the man and woman are bound supernaturally in matrimonial grace and participate in the mystery of unity existing between Christ and his Church.  As should be the case in natural marriage, the sacramentally joined couple joyfully accepts children and the blessed duty of rearing these children.  The man and the woman joined in matrimony are further called in this vocation to strengthen each other in prayer and in charity, and to live out a life of increasing daily holiness accompanying each other toward their final destiny in heaven.
Couples desiring the Sacrament of Matrimony at St. Francis Xavier Parish must be registered in the parish and schedule an appointment with Fr. Ryan Healy.  Such appointments should be made at least 12 months prior to the proposed marriage date.
Couples will be required to have marriage preparation as approved and presented by the Diocese of Fall River. The course must be booked at least 8 months before the wedding date.
The parish also has a parishioner who acts as coordinator to assist in the organization of the music, readings, rehearsal, and ceremonial seating for the wedding.
Please call the parish office at 508 995-7600 with any questions.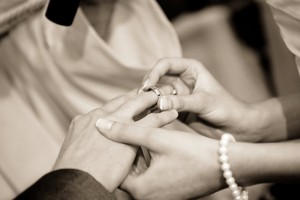 "But from the beginning of creation, `God made them male and female.'  `For this reason a man shall leave his father and mother and be joined to his wife, and the two shall become one flesh.' So they are no longer two but one flesh.  What therefore God has joined together, let not man put asunder." (Mk 10: 6-9)