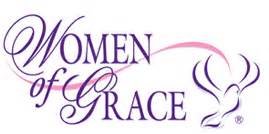 This is an apostolate for women founded by EWTN host of "The Abundant Life" and "Women of Grace", Johnette Benkovic.  This is a unique apostolate for women who seek to explore and achieve an authentic Christian understanding of the dignity of womanhood and to promote a woman's unique vocation and mission to family and community. In study, friendship, and charity our parish women are called together to a greater understanding of the teachings of the Church & Sacred Scripture. Through the example of female saints and Our Blessed Mother women discover the beauty and gift of their gender as true Daughters of God.
Please contact the parish office if you are interested in learning more and becoming a member of the St. Francis Xavier Woman of Grace.

Wo
men of Grace Meeting – 50 ladies attended the first informational meeting. We are very enthusiastic about this program specifically for women aimed at a deepening of faith and knowledge through study of Sacred Scripture and the teachings of the Church. For more info on Women of Grace,  please contact the parish office.