The SFX Mass Schedule
Saturday:  4pm Vigil
Sunday:  8am, 10:30am
Mon-Sat:  9am (daily Mass)
First Fridays:  9am, 6pm
Holy Days of Obligation:  As Announced
"Remember the Sabbath day; to keep it Holy" (Ex 20:8)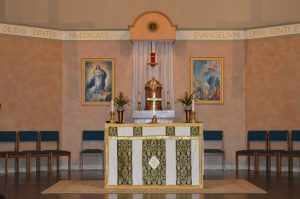 The Mass is the true Sacrifice of Jesus Christ in the Eucharist and the central act of worship for all Catholics.  Being established by Christ and chiseled into tradition by the Apostles it was the primary worship of the early Christians and has been retained ever since by the Catholic Church.  The earliest form of the Mass is here described by St. Justin Martyr (died 2nd century) in his Apology:
"The apostles, in their recollections, which are called gospels, handed down to us what Jesus commanded them to do. They tell us that he took bread, gave thanks and said: Do this in memory of me. This is my body. In the same way he took the cup, he gave thanks and said: This is my blood. The Lord gave this command to them alone. Ever since then we have constantly reminded one another of these things"… "On Sunday we have a common assembly of all our members, whether they live in the city or the outlying districts. The recollections of the apostles or the writings of the prophets are read, as long as there is time. When the reader has finished, the presider of the assembly speaks to us; he urges everyone to imitate the examples of virtue we have heard in the readings.  Then we all stand up together and pray.…" "The Eucharist is distributed…"
The Sunday gathering, the readings, the Gospel, the homily, the communal prayer, the Eucharist, the main elements of the Holy Mass have ever been present and preserved in and by the Catholic Church.  This is our faith, our legacy.